Queen's birthday long weekend was met with dull skies and a heavy down pour of rain. Definitely a day that should be spent snuggling under the doona cover watching movies, eating sweets and drinking tea. Something Rick and I did for most of the afternoon. I really racked my brains for a more creative title but really for the life of me come up with one.
I usually work Mondays, even if it is public holidays (I'm a massive work-a-holic), but as Rick and I only have 3 short weeks left together, I'd rather take the time off and spend some quality time with my man.
We woke up in the morning and went to La Cucina for some anti pesto plate. They have a great deli but not so good food menu. As it was still breakfast time, we had to settle for some traditional breakfast rather than our anti pesto plate. I find it funny how restaurants advertise certain dishes on a menu but always seem to run out of some sort of ingredient like sage butter or even sauce?! Breakfast was rather disappointing, the egg was runny, the taste was bland and I only got two measly little corners of bread that turned up stone cold at the table.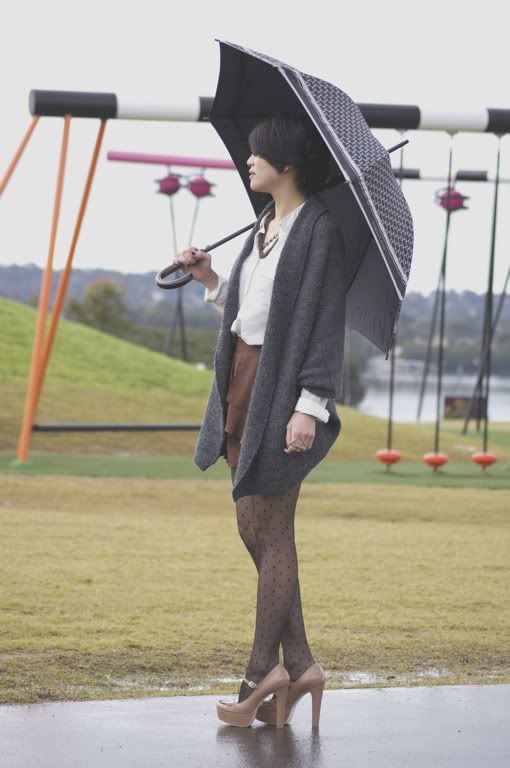 After breakfast we stopped by some spots for photos as I've been so inconsistent with my outfit posts lately, I've been making mental notes to take photos every single opportunity I get. I'm rather shy for a blogger and am always embarrassed with the attention of onlookers wondering what the hell it is we are doing. So having such bad weather and a few spots of flash rain, no one was around outdoors and I felt more in my own skin to post naturally than I have before.
(Shirt: Sportscraft, Shorts: Boutique, Shawl: Arthur Galan, Loafer Pumps: Wittner, Bag: Alannah Hill, Antique Necklace: Oroton, Umbrella: Oroton)




I did a massive shopping haul on Sunday, a few basic items that I can wear to most occasions. These chiffon shorts are in the perfect rust colour I've been looking for. My taste for fashion lately has been a lot more feminine, rather than my usual grunge. I don't know why, but I seem to be opting for the softer lines than straight tailored cuts. I tried something different this time with my photos a little bit of editing on Photoshop, just to kick-start some creative ideas for my long neglected architectural portfolio.



I think I'm on a rambling rampage today. =)




I hope everyone had a great weekend and hope that the weather here hasn't stopped most of you guys having fun here in Oz.



X