I came home today to a nice little surprise from Rick. He upgraded my fixie and pretty much came home with a whole new package. Its got a complete new colour scheme (although I loved my pastel purple bike to bits), new grips and new rims. We just went for a late night ride, which was exhilarating in the cold crisp autumn night air. Can't wait to take photos and show you guys.
Its been getting pretty difficult to take outfit photos now with daylight savings in place. We never get enough time to catch the afternoon sun. Night photos are always so hard to take. The location from this shoot was discovered during one of our sunday rides. Its an overpass right next to the rail line that takes riders and pedestrians over the river to the next suburb.
I love the rustic look of this location, its high overhead iron cable columns lines the walkway behind fences reaches into the sky, the fact that this overpass runs over the river making it feel like you're walking on water. I'm not entirely happy with these photos because we arrived at location at midday, when the sun was as its strongest. I'm pretty much squinting in all these photos, but it was the only opportunity we got.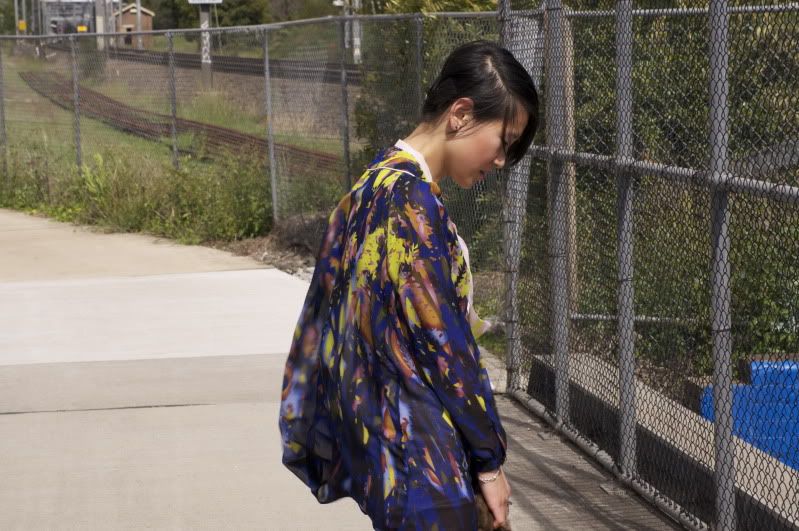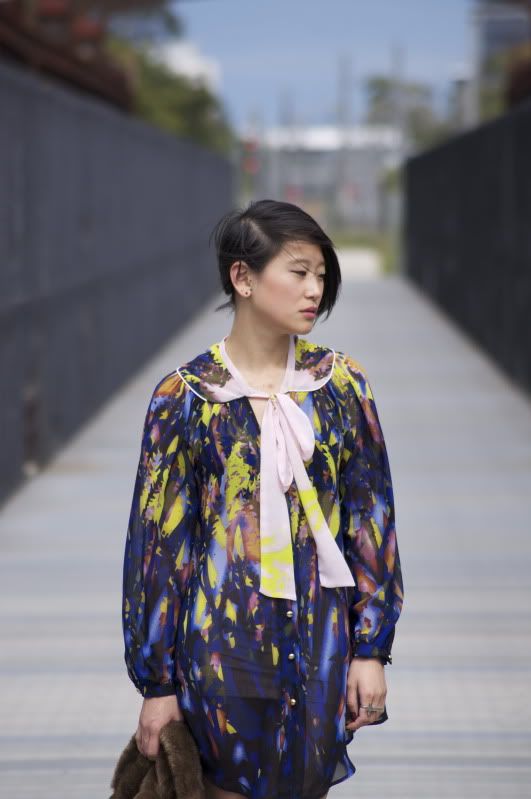 (Top/Smock Dress: Charlie Brown, Wedges: Matiko, Faux Fur Coat: Vintage, Ring: Diva)
This top, which I wore as a dress, has so many vibrant colours, its such a playful and fun outfit which reminds me so much of summer and spring. It's chiffon, makes the cut of the dress flow perfectly as a smock dress. Rick also decided to play around with tinting the photos which I think turned out really good, as it looks kind of like an early morning shoot.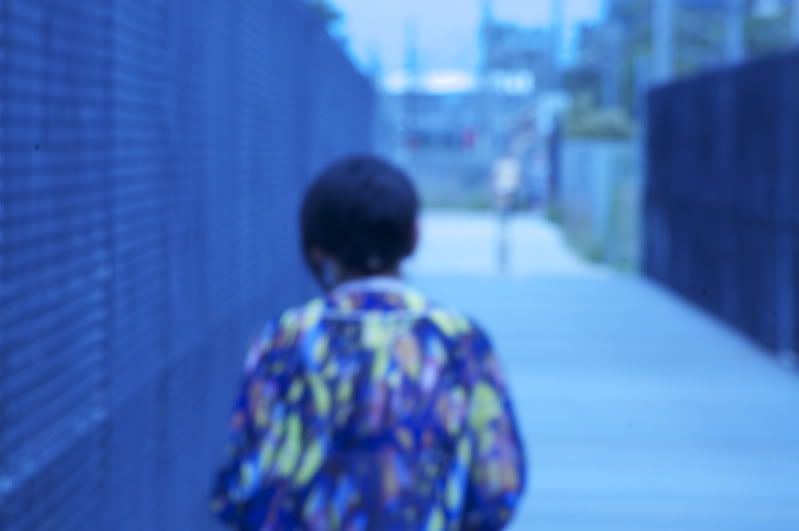 Soooo....its Rick's birthday this weekend, which I am excited to be planning. Also I've been invited to the Life Aquatic Blog's no Fixed Address Gig featuring The Gate. I'm pretty excited for everything that's happening this week.
Hope you guys had a fantastic weekend and will be having a magnificent week!
X