On Sunday, James took Rick and I for a gourmet dinner at the Sheraton Hotel. The occasion: farewell dinner for Rick as well as a celebration of the time we have known each other.
The Sheraton Hotel is one of a few hotels in Sydney whose building interior ages really well, a design that is classic but timeless. Upon entry, one steps onto the grandeur maroon coloured marble floors, then to face a grand wrap staircase that takes you to the second floor. The interior is well lit, not to light yet not too dim, perfectly creating the perfect ambiance. The food was amazing, the seafood (not that I eat a lot of it) was really fresh, their fruit produce was in season and their bread collection was amazing!
We had a great time just chatting and catching up. Afterwards, we went to Hyde Park to take some quick outfit snaps. James choreographed a cute photography session and I just can't help but get all gittery and giggly everytime I look at this set. I must warn you, that the next influx of pictures will be quiet mushy and lovey dovey.
We also got a chance to take some individual outfit shots. I finally got to wear the Zara dress my sister bought for me from Shanghai. I love how it is so fitted and it ends up kinda tulling out at the waist. It is also just the right length and looks rad with my Matikos. I went on a bag shopping spree about two weeks ago and ended up splurging on two Alannah Hill bags, which I finally got to wear too.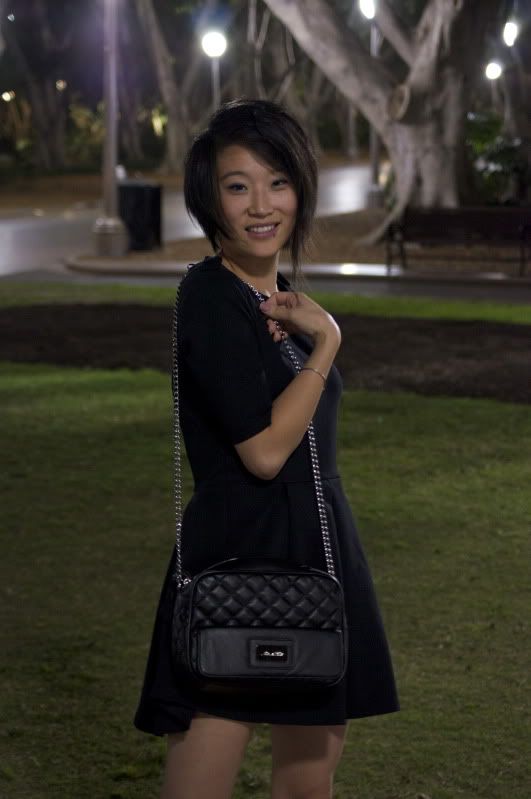 (Dress: Zara, Shoes: Matiko, Bag: Alannah Hill)
Yesterday, I went on a shopping spree but I feel horrible going about my regular life, as the rest of the people in Japan are suffering from such a horrible natural diaster. I have decided to actually return the items and donated that money to the Red Cross Appeal for the Japanese Quake. I'll also be donating my next pay cheque for them as well. This diaster has hit pretty close to home as we have a lot of friends currently there in Japan, I urgre everyone to give to those in need at this desperate time too. If your in Australia you can donate
here
Rick and I are going to Moonlight Cinema in Centinnal Park tomorrow, I'm hoping the weather will be good as its an outdoor event and if the weather holds I'll be able to take some memorable photos of Rick and I.
Until then, have a great one guys!
HOPE to JAPAN and hoping it all gets better soon!!
X